I've been so eager to share some pictures from Brandon and Monica's May 15th wedding with you, but to be completely honest, I find myself smack dab in the middle of wedding season with NO energy left at the end of the day for blogging!
I'm loving all the shooting we're doing, but it's meant that I've neglected the blog – boo! I guess it's better that than neglecting my clients . . . or my kid . . . or Buddy. Okay, maybe I'm neglecting Buddy a little bit, too.
As you know, Stan and I attend MANY weddings and one of our favorite things to see is how each of our couples incorporate their own lives and personalities into the details of their wedding day. From dancing their first dance to a song they loved eight years ago when they first started dating, to wearing cuff links and broaches that once belonged to beloved grandparents that have passed away, many of the personal touches of the wedding day go unnoticed by guests, but still hold deep and powerful meaning to the bride and groom and should not be forgotten. It is a JOY and an HONOR to get to be the ones to record these special things for our brides and grooms.
I want to strongly encourage you all to approach your wedding planning with an attempt to "keep it real".
What I mean by that is this: skip anything and everything that is meaningless to you and choose to make your wedding what it's meant to be: a time to honor your past, celebrate your present, and to joyfully launch your future together. To do this well, you may have to dig deep to uncover the things that are truly important to you, and get creative to find ways of molding your own unique wedding out of those things.
Here are a few ideas we've seen and loved:
1. One groom who hates cake (criminal, I know!), decided to forgo a groom's cake (you really don't NEED one anyway!) and instead had a tower of his favorite dessert – ice cream sandwiches! It was such a cute idea, the guests LOVED it, it was exactly what the groom wanted, and I have no doubt that it saved them quite a bit of money on something they didn't even want in the first place. Imagine if this couple had said to themselves: "Well, every wedding we've been to had a groom's cake, so I guess we're supposed to have one too." Nonsense! It's YOUR wedding – make it a reflection of who YOU are, regardless of what others may think or say!
2. Just last weekend we shot a wedding where there was no dancing at all – NONE whatsoever. No first dance, no father/daughter dance, no mother/son dance. No dancing. And I'll be honest: I really love dancing. I love to dance myself, and I love the fun pictures we get at a reception where there is dancing. But you know what? I was THRILLED that these guys decided to nix the dancing because, at their engagement session, they were telling me about how much they hate dancing. If you hate dancing, why on earth would you do it on your wedding day (the day you're supposed to enjoy the most) with everyone you know watching you?! Because somebody told you to? Silly! I'd rather see you skateboard at your reception if you love it, then to see you dance if you hate it!
3. First Looks. Now, you guys all know that I love it when my brides and grooms opt to see one another before their ceremony for a "first look" moment. It gives them an opportunity to spend those first few moments together, before the craziness of the wedding day begins, embracing one another and sharing in the anticipation of all that is to come for them that day. It makes picture times run more smoothly, and allows the couple and their family and wedding party to get to their reception immediately following their ceremony instead of waiting behind and taking pictures. HOWEVER, a much as *I* love First Looks, I always encourage my clients to do what feels right to them. If you've always envisioned your groom waiting at the end of the isle for you as you walk towards him for the first time on your wedding day, and have dreamed of seeing that expression on his face, then that's what you've got to do! We'll make sure you get great pictures either – we promise! Your wedding day is not about us, our cameras, our schedule, or anybody else's idea of the "right" way to do things. It can be very easy to lose sight of this in the planning process . . . . but do your best to remember: this is YOUR day. Your one and only wedding day.
4. Wear borrowed jewelery that your best friend wore in her wedding. Use the champagne flutes that your parents used at their wedding. Have your uncle drive you away from your reception in his '77 Mustang. Ask your co-worker to bake her famous German chocolate cup cakes to be used as favors for your guests. Choosing to incorporate things that have sentimental significance into your wedding day details not only honors the people that you include, but saves you the time and money you would have spent on new things that hold no true value.
I have about a million other examples and ideas I could share with you, but I have to wrap this up at some point!
I want to end this post with some detail pictures from Monica and Brandon's beautiful wedding, followed by a few words from Monica about how her day came together. I hope you enjoy all the personal touches as much as we did! Monica and Brandon's wedding was a PERFECT example of how to make your day truly special and personal. Some of these pictures show off details from their day and some just show off – well, their day!
I hope you enjoy them all . . . and please, stick around to read Monica's beautiful description at the end of the post!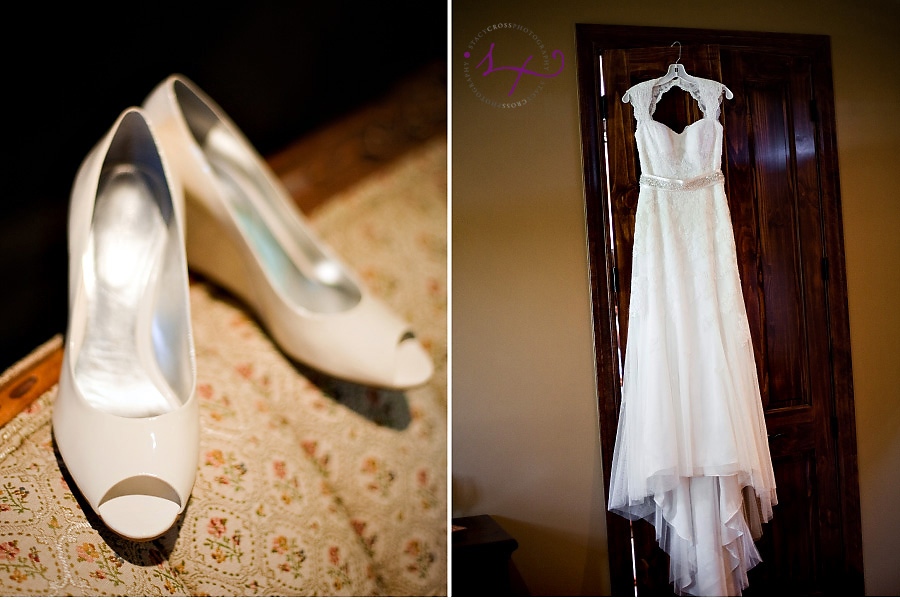 From Monica:

My fiance and I wanted our wedding day to be a reflection of who we were as a couple. Our first step in reaching that goal was to select a wedding sight that was most dear to our hearts. We were able to do this by getting married on his family's land. It is a place where we spent many weekends while dating and a place where we grew to love one another.
Our whole wedding theme was inspired from the family's land. We choose the colors green, cream and black to reflect the outdoors.
Our reception sight was at Albert Dance Hall. We were very lucky to be able to rent this place. It had just been purchased and remolded. The grand re-opening of the hall was 2 weeks before our wedding. The Dance Hall was full of character and Texas charm. It was exactly what we were looking for. We wanted a reception sight where people felt comfortable and right at home. We decided to serve Texas BBQ as our meal, again to fit in with our theme of the Texas outdoors.
We decorated the Dance Hall with all DYI projects. We order most of the flowers online in bulk and had my fiancé most creative aunt arrange the flowers into mason jars. She was responsible for most of the set-up. Some of the tables had birdhouses and birds on them with pictures of us. We used a lot of our engagement pictures, but also pictures from places we had visited while dating.
One of my favorite table decorations was a very simple idea. We filled mason jars about half way up with birdseed and then placed a candle inside the jar. It was great for the bar rail and picnic tables outside.
We wanted our wedding to be personal. Here are some ways we tried to make our wedding more about us:
We displayed pictures of our parents and grandparents on their wedding day.
We bought fun western plates for people to sign. They were so much fun to read when we got back. We are going to use them as decoration in our home.
We made personalized water bottles for guest to drink when they got the wedding and at the reception. They were really hit. I think we had about 3 bottles left over.
I added our monogram to our baskets that held our programs and horns (for the exit). We also made the programs ourselves.
We had cups made with our monogram on one side and on the other side was a birdhouse and our wedding date. We also had napkins made. They were so sweet. They had the lyrics to the first dance in a circle with our names and wedding date in the middle.
Our favors were wildflower seed packets. I added a label with our names and wedding date. We displayed the favors in three terra cotta pots that I spray painted black and added our monogram to the pots also.
I attached a brooch of my grandmothers to my bouquet. I was also able to wear her pearls. All of the girls on my side of the family have worn them at their wedding including my sister and mom.
One of the favorite DYI projects was our reception card. I came up with this idea because every time we are at a wedding reception I want to know what song the couple is dancing to for their first dance. I decided to make a reception card to list the order of the reception and the songs for the dances. On the back of the card were the lyrics to our first dance. I also stamped and embossed a daffodil flower to the reception card. It matched our wedding invitations.
Overall our wedding was about who we were as a couple. We loved everything about our wedding.
Photography: Stacy Cross Photography
Napkins: The Paper Hat
Cakes: Sweet Secrets
Flowers: Market Street Flowers
Favors: American Meadows
Reception: Albert Dance Hall
Food: Riley's BBQ
Cups: Moon Mippy