We had SO much fun shooting Katie and Eric's wedding last weekend at
Briscoe Manor
. It was our second time to shoot there and our first time to shoot a wedding in the chapel. Katie is a loyal blog reader and a huge sweetheart! I have just loved getting to know her over the past several months and I really feel that she will be a lifelong friend!
Katie told me at their wedding that she got the idea of hiring a lighting designer for their reception from reading my blog. Brilliant decision, Katie! The reception looked just gorgeous and the pops of color in the background just give a little extra warmth and dimension to their pictures – LOVE it!
Here are a few of my favorites from their beautiful big day . . .
The chapel flowers were gorgeous: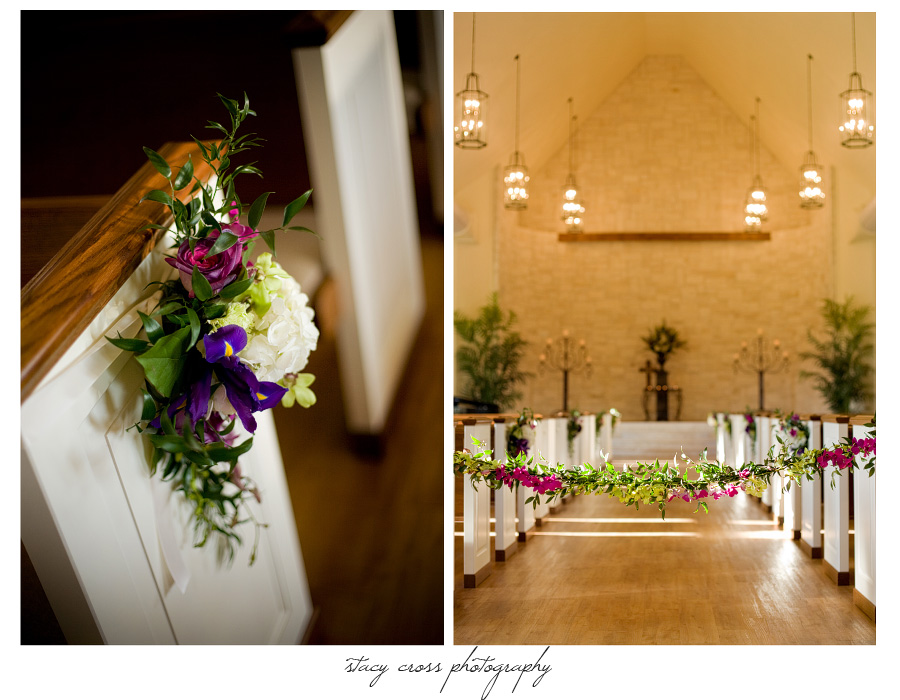 Katie's friend Mary Beth (on the left below) is a very talented make-up artist and did a phenomenal job with the girls' make-up. She was also at Katie's bridal session, which I shot when Mary Beth and I were both about to pop out some babies!
Her sweet little girl is only 8 days younger than Quin!
On the right is Katie's nephew, Will – my sidekick for the day!
This was the sweetest thing . . . Katie's niece was having her make-up done and was being tickled by the blush brush! She was squealing with delight and the rest of us girls were just giggling right along with her!
Love me some blue weddin' shoes!
Katie's dad acting as "granddaddy"
I LOVE this picture! Almost as much as I love Katie and her parents.
The lovely reception set up at Briscoe Manor. Katie's colors, flowers, table settings – everything – just fabulous!
SO not me: I FORGOT to taste the wedding cake. WHAT?! Looks good though, doesn't it?
Eric – you are a sweet and adorable groom. There, I said it!
O.M.Gracious!
Favorite moment! Favorite memory! Okay, so Eric was digging to get the garter out from under Katie's dress when this cutie-patoot little girl walked up and wanted to know what was under there. She was very, very curious, so she decided to crawl under the dress and find out for herself!
We got tons of pictures of her looking under Katie's dress, but I loved this one because it was the moment just before all of this took place and I adore the look on her face!
Awesome – let me repeat – AWESOME exit!
E & K – Lots of love, many thanks, and HUGE congrats – Stacy & Stan